COVID-19 Update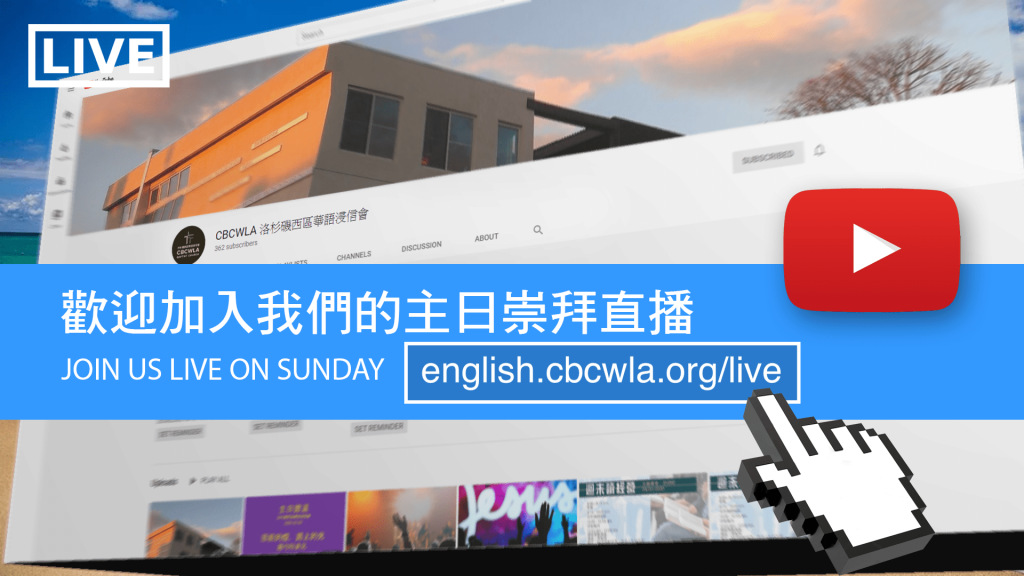 CBCWLA is cooperating with efforts by the LA County Dept. of Public Health in responding to COVID-19 and moving all ministries to online beginning this week. Please join us at 9:00 AM and 11:00 AM at english.cbcwla.org/live for Worship Service and Sunday School.
Wednesday Prayer Meeting and Friday Night Fellowships will be via conference call or video conference. Subscribe to [email protected] to get up-to-date announcements by sending an email to [email protected].
When churches stop physical gatherings in response to disease outbreaks, it is not an act of fear but an act of love and obedience. We seek to steward the health and lives that God has entrusted to us by not putting ourselves at unnecessary risk of disease. At the same time, we seek to love our neighbors by doing our part to reduce the spread of disease, and thereby protect the vulnerable and help reduce the load on the medical system so that they can attend to those most in need.
HISTORY
The Chinese Baptist Church of West LA (CBCWLA) first started as a Bible study group at UCLA in the early 70's. The group continued to grow and officially formed as a church in 1978. Thus, CBCWLA was born. As a church, we continue to focus on student ministry while progressively developing other aspects of the church. The English Congregation is one of the exciting fruits of this continuous development.
VISION STATEMENT
It is the permanent vision of CBCWLA to be a kingdom church that is Christ-centered, Bible-based, and Mission-minded.
We follow the Southern Baptist Convention's Baptist Faith and Message. The full text can be found here.