各位弟兄姐妹平安 Greeting, brothers and sisters
一年一度的會員大會即將到來。今天因疫情緣故,教會將舉行第一次的線上會員大會。在此之前有些預備需要弟兄姐妹配合,才能確保我們的會員大會能有流暢的過程。也請持續關注此網頁,我們會陸續把新的細節加上來。技術性方面若無法配合,請即刻向理事會提出,避免投票權益受損。
Our annual Members' Meeting is around the corner. Due to COVID-19, this will be our very first online Members' Meeting. We are counting on all our members to do their part to ensure a smooth meeting. Please check back regularly as we will continue to update and refine the details. If for any technical reason that you are not able to join, please contact the church council to protect your rights to vote.
以下有幾個注意事項 Please be aware of the followings:
請更新把你使用的Zoom軟件更新到最新的版本
Update your Zoom to the latest version
當日請勿使用Chromebook或直接透過browser加入會議,這兩種方式都會有功能上的限制
Please refrain from using Chromebook or joining from browser, both will have limited functionalities
同一 Zoom 帳號使用以兩位會員為限
Only up to 2 members can share 1 Zoom account/device
入場點名
Roll call required upon entry
現場及時翻譯
Live interpretation
投票方式
Voting method
1. 更新Zoom軟件 / Update your Zoom
為了更好支援開會時需要用到的各樣功能,請確保你所使用的Zoom軟件是使用最新的版本。下面的視頻介紹如何更新你的Zoom。
To support all the functions needed for our meeting, please ensure that your Zoom is up to date. The following video shows how to update your Zoom.
2. 請勿使用Chromebook或透過browser加入 / No Chromebook or joining from browser
因為Chromebook和browser登錄的方法無法使用我們會議裡需要使用的分組或翻譯功能,請弟兄姐妹避免使用這些方式加入。請考慮其他能支援這些功能的選擇,比如:手機(iPhone或Android)平板電腦(iPad或Android)電腦(Mac或Windows)。
Chromebook and "Join from Your Browser" both have limited functionalities, namely breakout rooms and interpretation functions. Please refrain from using these for the meeting. There are may other devices to consider: iPhone/Android phone, iPad or Android tablet, Mac or PC computers.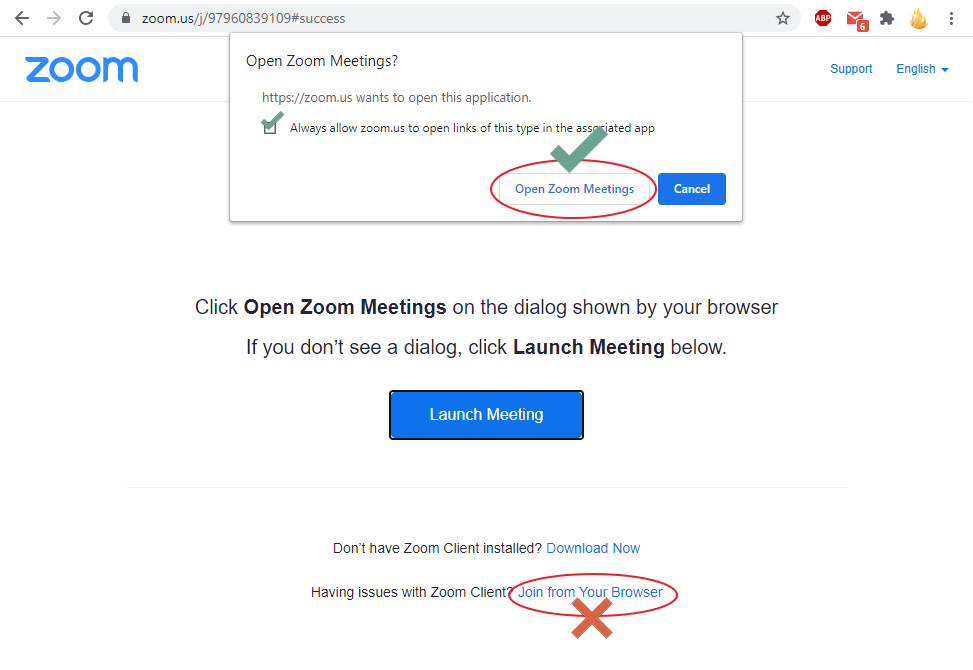 3. 同一 Zoom 帳號使用以兩位會員為限 / Up to 2 Members per Zoom/Device
因為計票的需求,請最多兩個會員使用同一個Zoom帳號/機器參加會員大會。家裡若還有第三位會員,請使用另外的器材像是手機或iPad。
For vote counting purpose, please limit to only 2 members joining the meeting with one Zoom account/device. If there is a third church member in your household, please use other device such as phone or iPad.
4. 入場點名 / Roll Call
會員大會當天,午堂崇拜後我們會先關閉網路會堂,再讓會員重新入。若是您是參加早堂或英文堂的弟兄姐妹,可從教會的Youtube直播來判斷崇拜結束時間(http://cbcwla.org/live),然後再用Zoom進入網路會堂(http://cbcwla.org/hall) 。
On the day of the meeting, we will momentarily close the Online Meeting Hall right after the Chinese Noon Service at around 12:30PM, and relaunch the meeting to allow members to join. EC members can check the Chinese Youtube stream (http://cbcwla.org/live) to determine when the worship service ends, and join the Online Meeting Hall (http://cbcwla.org/hall) following the conclusion of the worship service.
進網路會堂後我們需要分組進行點名。請在您的Zoom App裡找到並點選這個四格的Breakout Rooms按鈕:
After entering, we will need break into groups to take roll.. Please locate and click on the 4-square Breakout Rooms button:


按下後會打開一個分組的窗口,請按照您姓氏的英文第一字母進入各點名小組。裡面會有負責同協助登記。
The button will bring up a Breakout Room list. Please join the appropriate room based on the first letter of your last name. A coworker will be in the breakout room to assist you to check in.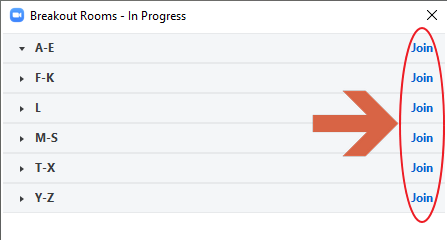 若您是夫妻或兩位會員一起用一個Zoom登錄。可在兩位之間選一位的姓氏進入該點名小組。只要告知點名同工,他們還是能協助使兩位都能登記報到。點名完成後我們會把大家送回大組裡。在確定達到法定人數後宣布開會。
If you are a couple or 2 church members joining using one device, just decide a breakout room to get into, and inform the coworkers that the other person does not have the group's last names, we will still be able to sign the person in. After determining that the quorum is established, we will call to start the meeting.
5. 現場及時翻譯 Live Interpretation
為了讓當天會議能順利並有效率地進行,我們會使用Zoom的及時翻譯功能,雙語同時進行。需要聽英文的會員們,可以點選地球形狀的按鈕,選擇英文來聽及時翻譯。
To allow for a smooth and efficient meeting, we will be using Zoom's interpretation feature so that the meeting can be observed in both languages at the same time. For English speaking members, you can click on the "Globe" icon and choose "English" to listen to the live interpretation.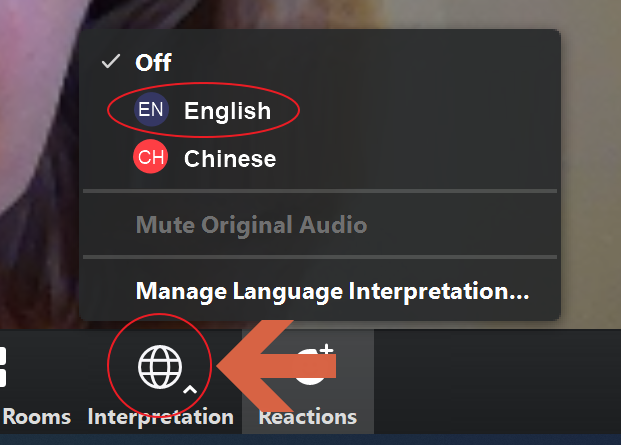 6. 投票方式 Voting Method
會議中我們將為兩個議案進行投票。為了能確保每位會員都有權利投票,線上投票的方法使用兩題的設計來讓第二位會員也能投票。每一張票一個人只選一次贊成或反對。
We will vote for 2 motions during the meeting. To ensure that each member can vote, even those with more than one person joining using one account, we have designed our ballot with 2 questions for each vote. Each person will only choose ONE Yes or No vote from each ballot.
若你是自己一人參加(一人一機),請第一題投贊成/反對後,在第二題點選『只有我』然後提交。
If you are attending by yourself (1 person, 1 device), please answer Yea  or Nay for the first question, then choose you're "the only one here" in the second question and submit.

若你身邊還有第二位會員(二人一機),請你在第一題投贊成/反對後,讓另一位會員用第二題投贊成/反對,然後提交。
If there is a second church members attending with you on the same device (2 people 1 device), after your finish answering the first question, please have the second person answer Yea or Nay for the second question, then submit.

會議最後將由牧師致辭並帶領禱告後結束。
The meeting will adjourn after words and prayer by the Senior Pastor.

我們希望弟兄姐妹都能在會前花點時間把這些注意事項都先看過並且預備好,讓我們當天有個有效率、順利、並且充滿感恩的會員大會。謝謝各位會員的配合!
We hope that all members will spend some time before the meeting to study the process and get prepared, so that we can have a meeting that is smooth, efficient and full of joy. Thank your for your cooperation!

理事會 The Church Council
洛杉磯西區華語浸信會 CBCWLA Baptist Church